Volunteer with UWC Great Britain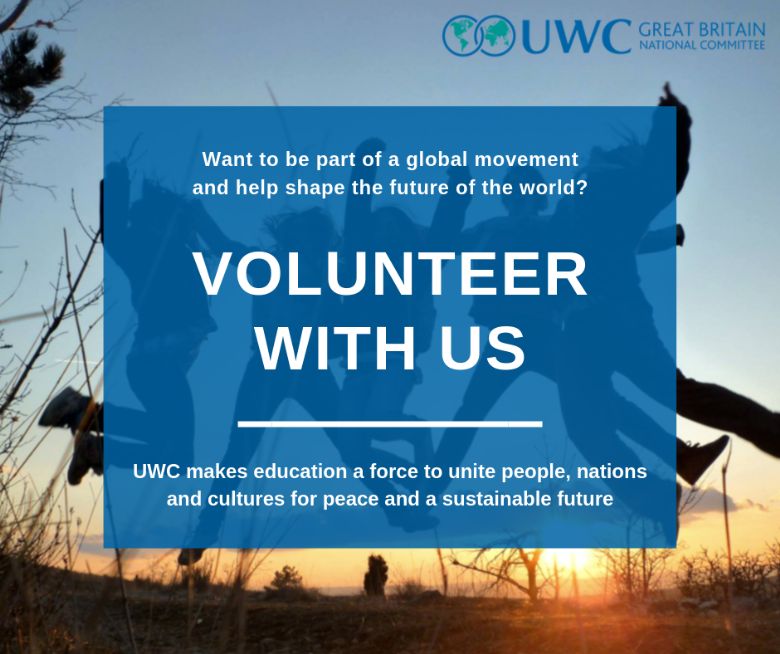 Volunteering with UWC Great Britain can be a fun and rewarding experience. We want you to share in, and help shape, the direction of our National Committee and to help nourish our movement and extend the resources of UWC Great Britain.
UWC Great Britain relies on the passion and commitment of volunteers. Our volunteers come from all walks of life and bring with them experience, charisma and an eagerness to support the diverse and important work of our National Committee.
We want to work with you to find an opportunity that fits your needs, challenges and strengths to establish a beneficial and fulfilling relationship for both you and UWC Great Britain and in doing so, help us achieve our mission to make education a force to unite people, nations and cultures for peace and a sustainable future.
Whether you are a UWC alumni looking to give back to the UWC movement, a like-minded human with a desire to contribute to the UWC mission, or a recent graduate looking to gain some valuable work experience, there are plenty of ways for you to get involved as a volunteer with us!
If you have any questions about volunteering with UWC Great Britain, please contact volunteering@uwcgb.org
Current Volunteering Role Opportunities
UWC Great Britain wants to ensure that our volunteers get the most out of their work with us to ensure maximum benefit and impact of any volunteer role. In doing this we want to provide a clear and focused approach to new role opportunities for any volunteers interested in working with us.

You can see a list of our current volunteer role opportunities here. Click on each link to find out more information about each role and find the relevant application form:
General Committee Volunteering Areas
UWC Great Britain welcomes any volunteer who is passionate about the UWC movement. In addition to the specific role opportunities above, we are always looking for volunteers to get involved generally in the different areas of work our Committee focuses on.

You can see a list of our current areas of work here. Click on each link to find out more information about each area and find the relevant contact form should you wish to learn more or get involved.
Current Employment Role Opportunities
As UWC Great Britain refines and broadens the work that we do, we are looking to develop our Core Teams and add new specific role opportunities that provide additional incentives for our members, supporters and volunteers.

You can see a list of our current employment opportunities here. Click on each link to find out more information about each role and find the relevant application form:
There are currently no Employment Roles available. We will update as soon as a role opportunity arises
Other Ways To Help
UWC Great Britain understands that not everyone has the time or ability to volunteer with us. For those who don't have much time to spare but still want to help and do their part for the UWC movement, there are some other ways to support us:
Support UWC Great Britain on Social Media - Follow us on facebook, twitter and instagram and share our posts

Promote UWC to your friends, family and other networks

Become a member of UWC Great Britain to stay involved with all our latest news, opportunities and events

Donate to UWC Great Britain to directly support our work and enable us to deliver our mission more successfully