UWC GB presents 'Zoom In On UWC!'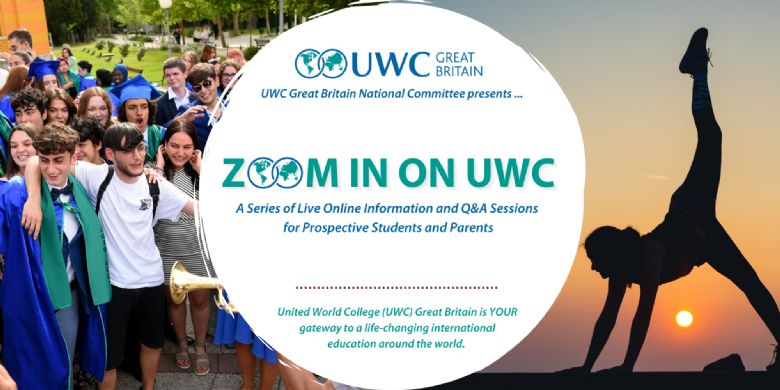 About 'Zoom In On UWC!':
Zoom In On UWC is a programme of live online information, presentation and question and answer webinars that are designed to give you an inside look at all aspects of UWC life and the application process to get there. All the webinars will take place using Zoom and will run throughout the year on various Thursday evenings, up to the application deadline for new students.
Designed for prospective students, parents or anyone interested to learn more about UWC, these sessions are hosted by UWC Great Britain, the organisation that selects students from Great Britain to attend the 18 different UWC schools each year.
At each session you will have the opportunity to hear from current students, parents, alumni of UWC and members of UWC Great Britain and to ask them any questions you may have.

'Zoom In On UWC!' Webinar Schedule:
Wednesday 08 November - What is UWC and is it right for me?
Wednesday 22 November - Life At UWC: Academics and Co-curricular
Wednesday 06 December - Applying To UWC and the Selections Process
Wednesday 20 December - Scholarships and Funding
'Zoom In On UWC!' Webinar Format:
Our Zoom In On UWC webinars will run throughout the year up until the application deadline for new students.
Each webinar will be focused on different topics about UWC and the process of applying. These topics will be repeated in cycles, to allow everyone the opportunity to attend each webinar topic and ask questions. You can check the schedule of upcoming webinars above.
At each webinar our hosts will welcome all the attendees, introduce the guest speakers (current students, alumni and parents) and explain the format for the webinar and how to ask questions. There will an introductory presentation which will cover the most frequently asked questions for each webinar topic, after which the hosts will open the floor up to attendees to ask additional questions.
For the final part of the webinar, the attendees and guest speakers will be divided up into smaller breakout rooms, to allow for a more personal opportunity to chat and ask further questions.
'Zoom In On UWC!' Webinar Topics
Each webinar will focus on one of the topics below:
What Is UWC and Is It Right For Me? - This is the starting point for anyone interested in learning more about UWC and who may be thinking about applying. In this webinar we will look at the structure and ethos of UWC and discuss its educational principles to help identify the types of student UWC are looking for.
Life At UWC: Academics and Co-curricular - An inside look at what life is actually like at the 18 different international colleges. In this webinar we will also discuss the IB (International Baccalaureate) educational curriculum that all students study and the various co-curricular opportunities that form part of the CAS (creativity, activity, service) programme.
Applying To UWC and the Selections Process - For anyone who wants to apply to UWC, this webinar will give an entire overview of the selections process including the different application and assessment stages. Definitely attend this session if you want to make sure you are ready to apply!
Fees, Funding and Scholarships - This webinar will give you an introduction to the various fees and funding requirements for the different colleges as well as more information on how our scholarship programme works. We highly recommend parents take part in this session as you will learn lots of important information you may need.
UWC Application Questions - As we get closer to the opening of applications for anyone wanting to apply to UWC for entry in 2022/23, this webinar will give you an introduction and breakdown of the first steps of the applications process - community conversations and the application form. We will be there to help make sure you understand what is required for you to write the best application form answers possible and also to help deal with any troubleshooting questions - we highly suggest you don't miss this session!