#BlackLivesMatter
10 June 2020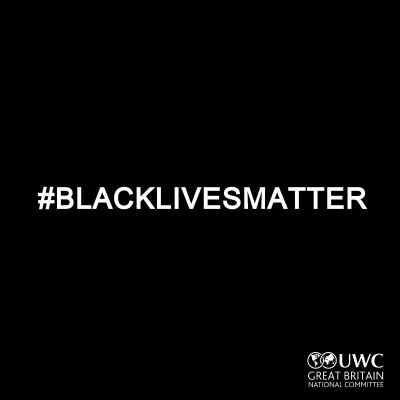 A Statement From UWC Great Britain
The UWC Great Britain National Committee condemns the brutal killing of George Floyd by police officers in the United States, and stands in solidarity with Black communities in the USA, the UK, and around the world.
We stand in solidarity with those who have lost loved ones to racist attacks and police brutality. We stand in solidarity with those who live in fear daily, subject to the racist, violent structures and institutions which dominate our society and obstruct equity or justice. We stand in solidarity with communities, families, and individuals who are dehumanised and othered for the colour of their skin. We condemn racism wherever and however it occurs.
We recognize that racism is structural, sustained and amplified by institutions. Institutional racism remains a problem in modern Britain, and we are pleased to see increased discussion around these issues across online platforms.
We acknowledge and appreciate those voices in the UWC community that are pointing out manifestations of racism within our own institutions. We acknowledge their pain and accept that now is the time to listen, to self-examine, and to engage in finding the right response to any form of racism in our lives, our institutions and our world. It is central to UWC's mission to 'make education a force,' and that is no less important when educating about difficult topics. We recognise that part of our responsibility as a National Committee is to ensure that those people we select to attend UWC schools understand Great Britain's complex history in this area and to educate ourselves.
UWC GB is in solidarity with Black students, families, and supporters. We are also taking this as an opportunity to express support for Asian or Minority Ethnic people in recognition of their lived experiences. If there is anything we can do to consolidate and demonstrate our support, we welcome your suggestions and look forward to working together to make UWC GB a more equitable, fair, and supportive organisation. (Please reach out via any of our social media platforms, or in an email to info@uwcgb.org) As a start, here is an Instagram post (no account needed) with links for free mental health support for UK-based Black, Asian, or Minority Ethnic people.
As the trail-blazing Black activist and academic Angela Davis said, "In a racist society, it is not enough to be non-racist. We must be anti-racist." In that vein, we have compiled some resources for us all to engage with. We particularly encourage white people to click the below links, but non-Black people of colour may find them useful as well.
This is a Google Document (no account required) of anti-racism resources, which includes recommendations of books, articles, podcasts, films, and so much more: bit.ly/ANTIRACISMRESOURCES

This is a list of practicable actions UK-based individuals can take to support the Black Lives Matter movement.

We also encourage those who have spare cash to make donations to support anti-racism projects, both in the UK and abroad, including bail funds for those who have been wrongfully arrested while protesting in the USA. A list of UK charities and organisations can be found here, and ones located in the USA here.
At UWC Great Britain we will not observe silently. We stand in solidarity. Racism has no place in our organisation. We will educate to unite as one against these systematic injustices, and work towards creating a more peaceful world. #BlackLivesMatter